Sightmark Photon RT 6-12×50 .1 MRAD Black Digital Night Vision Riflescope
The Sightmark Photon RT 6-12×50 .1 MRAD appears to be a good night vision scope at a very accessible price. It is highly recommended if you are a hunting enthusiast.
The menu is very easy to use. It can be used both as a day and night optics.
The distance that you can see clearly at night is approximately 100 yards with the IR set on 6, thanks to a 768×576 CMOS sensor and an invisible 940nm built-in IR illuminator. Beyond this distance the images appear to be a bit blurry.
There is a small amount of adjustment both up and down and side to side for the IR light.
Also, there is an adjustment of the actual beam of the IR light from flood light to spotlight. These, adjustments, are nice features and will determine the distance that the image can be viewed.
Constructed from glass-nylon composite and metal, the robust RT is shockproof, IP55 water resistant and able to withstand up to .375 H&H recoil. The Photon RT includes carrying case, user manual, USB cable, spare battery container, battery container pouch and lens cloth.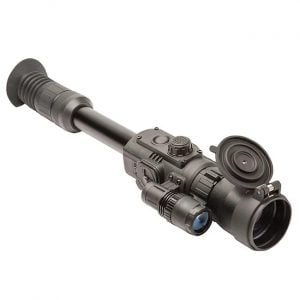 BUY NOW – $699.97 – SPECIAL PRICE

Sensor Type: CMOS
Sensor Resolution: 768 X 576px
Display: LCD
Magnification Range:
4.5 – 9x (2x digital zoom)
IR Illumination: LED; 850nm
Battery Life: 3.5 Hour (with IR)
Field of View: 22.5′ @100 yds
Battery Type: 4x AA
Weight: 32.8 oz
Dimensions: 18″L x 3.93W" x 3.62″ H
Product Type: Night Vision