A Night Visor For Beginning
If darkness is your friend and you are looking for a tool that fits your needs and to help you move undisturbed and operative in low light environments this might be what you are looking for.
The ATN NVM 14-2 night vision monocular is a versatile and resistant piece of equipment any night guy should have in his arsenal.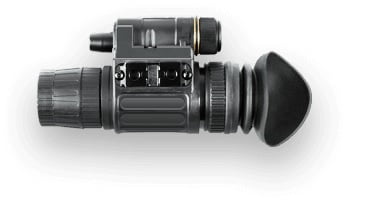 The ATN NVM14 is a hand-held, head-mounted, helmet-mounted, or weapon-mounted Night Vision. Therefore it gives you the opportunity to swiftly perform such activities with the opportunity of of having enhanced night vision along with the possibility to easily adjust the focus range of the lens and of the sight piece.
This youtube video by a frequent user shows some of the features and applications of the versatile second gen night vision, including stargazing and home defence:
The ATN NVM14 Device is also equipped with an Infrared light-emitting source. This light, invisible to the human eye, permits to multiply the low light emissions from the environment thus giving you clear vision in a virtually pitch black scenario.
Adequate both for training and operative activities, this competitively priced visor comes the following features and complements right out of the box:
Warranty card
Lithium battery (CR123A)- 60 hours lifetime
Instruction manual
Lens tissue
Soft carry case
You will also have the opportunity to build your custom goggle set or to add useful tools to your visor.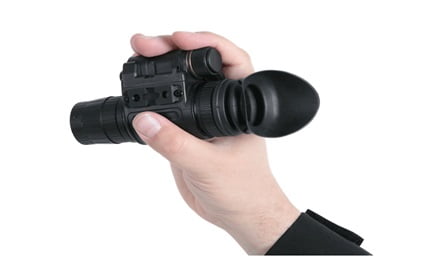 BUY NOW – 1495 $ -SPECIAL PRICE

SPECIFICATIONS
Magnification: 1x
Lens System: F1.2, 27 mm
Proshield Lens Coating: Yes
FOV: 40°
Range of Focus: 0.25 m to infinity
Diopter Adjustment: -6 to +2
Controls: Digital
Automatic Brightness Control: Yes
Bright Light Cut-off: Yes
Automatic Shut-off System: Yes
Infrared Illuminator: Yes (Built-in with flood lens)
IR Indicator: Yes (in FOV)
Low Battery Indicator: Yes (in FOV)
Power Supply: 1 x 3 V CR123A type battery
Battery Life: 50-60 hrs
Environmental Rating: Waterproof
MIL-STD-810 Complies
Operating Temperature: -40 to +50 °C
Storage Temperature: -50 to +70 °C
Dimensions: 120x49x69 mm / 4.7×1,9×2.7"
Weight: (w/o battery) 280 g / 0,62 lbs
Warranty: 2 years