Congo, Virunga National Park, a place that means so much for conservation and anti-poaching. A territory that evokes different sensations in the hearts of the ones that hear of it: fascination, sense of mystery and sometimes, terror.
North Kivu is a particularly important area for the fight against poaching at a global level.
The animals that live there are widely known as a symbol in the war against poaching and environmental exploitation: the mountain gorillas. These amazing and majestic animals have been facing and follow to face intense risks for their survival due to civil wars, terrorism and human greed.
The dramatic attack occurred few weeks ago in North Kivu where 12 park rangers lost their lives brought international resonance on the area, we contacted a local source to know something about what is happening in Virunga directly from the frontline. The words of Patrick Sadiki inspired us and showed a reality which is to often left to the sporadic pages of the news, we decided to devote more then this to the cause of the conservation in Congo.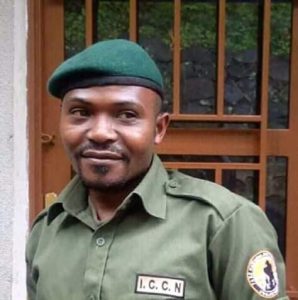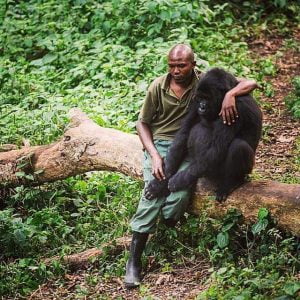 Patrick, can you tell us about your background? How long have you been working for conservation?
I have spent more than twenty years with the gorillas in Virunga Park. I first started in 1999 as a park ranger and since 2007 I am a gorilla guardian and I work with the orphans.
This has been my job since the beginning and I could not imagine anything different to do.
Working in this park is extremely dangerous but it's our life. We live here for three weeks at a time and then we gain one week off to go back to our families that live out of the park territory. I've always lived in Congo, our beautiful country that is unfortunately suffering, decade after decade for a number of reasons: civil wars, terrorism, poverty, poaching and there is much more to it.
Which are the threats you face every day in your job?
My job is risky for many reasons. Most people think of our job in Virunga to be dangerous only because of the poachers and the terrorists that we face but this is only a small part of the picture of our lives. For rangers like me, involved especially in the caring of orphan gorillas, a huge threat is posed directly by the interaction we have with these animals. It is true that the gorillas we care after were raised mostly by us since their real parents were killed by the poachers but they still keep on being wild animals, they are dangerous and extremely strong.
Let me tell you something that happened to me only some years ago: I was playing with one of the gorillas and suddenly for some reason it bit my hand three times and hit me, this broke my femur and I was in hospital for a long time, I could have died that day. Surely something made the animal angry even if we don't know the main reason, what we learn from these kinds of episodes is that the first rule with nature is respect, the rest comes in second place.
I think that living with these amazing creatures gives us the opportunity of deeply and truly understanding what we are doing here. Nature needs protection but it is also a great force that we cannot contrast, the ranger knows nature very well but he does not control it, we are here to defend the creation and we are ready to die for our mission.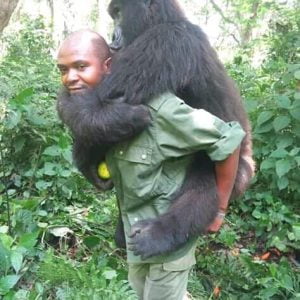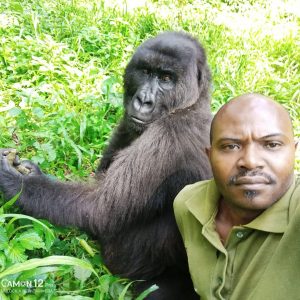 Do you have any words about the dramatic attack occurred in Virunga few weeks ago?
There are no words to describe what we came through…a real tragedy that killed some brave and good men. Some of them were good friends, we all knew each other and had a good relationship. Some of those young and brave men were like brothers to us and having survived is a blessing in someway but also a torment sometimes. We pray constantly for the souls of the ones that have left us and for their families that are now alone.
This attack was cowardly established by people that were much more armed than we are, they outnumbered the victims and hit them with a deep cruelty with unmotivated reasons. Human greed can lead people to commit the most terrible atrocities. Even if our loss was enormous we have to try to forgive the enemy, we are fighting for the right side.
What does this job mean to you and how is it effecting your life?
This job and this place mean everything to us, they hold a special place in our heart. About the gorillas, I think of them like if they were my own children, I have a huge family, half of it is human, the other half is made from gorillas, the rangers have become their parents in someway.
It may seem that for such a risky job we might get paid a lot but this is not just the case, most of us actually live with an income of about 250 $ per month and we all have big families at home. Simply our job does not cover all of the needs we have and each month it gets harder to keep on doing what we do and to motivate our long absence from home with such a small income to our relatives.
It is dramatic to hear such news from our source in Congo. We are always deeply inspired by the words of these brave people living and fighting on the frontline against multiple threats and enemies. A deep love for nature, sense of sacrifice and good will are the words that summarize the great man that Patrick is.
We hope that this article will give you a new perspective of the problems that affect wildlife conservation in Congo and that it will let you reflect on the complexity of certain situations that are too often being simplified in the news that we are able to collect.
Andrea Silvestri
for Insider Release
Do you want to tell us something about Africa and your personal commitment?
Contact: